Skin Rejuvenate - Best Skincare and Skin Glow Supplements
Regular price
Sale price
£20.00
Unit price
per
Sale
Sold out
Skin Rejuvenate Key Benefits
Boost skin glow supplement
Reduce wrinkles and fine lines
Anti Ageing - Improves skin elasticity and firmness.
Brightens and enhances the complexion.
Reduce pigmentation
Hydrate the skin
Revitalizes and renews skin cells.
Helps maintain a youthful appearance.
Evens out skin tone.
Boosts collagen production for better skin structure.
Yes 2 Revive is giving you an easy and effective solution to getting your health and beauty back on track making you feel young and revitalised again. Perfect your skin, and provide complete nourishment with an awarding formula packed into one capsule. This capsule improves your physical appearance as well as improves your metabolism making you feel restored both inside and out.
🌱 Natural & Safe: Our formula is free from harmful additives and is suitable for all skin types.
🤝 Trusted by Thousands: Join the countless individuals who have experienced the transformative power of Skin Rejuvenate.
Best 

supplements for skin glow
Your daily dose will provide you with all the active ingredients you need to feel rejuvenated. These active ingredients include Collagen, Hyaluronic Acid, Vitamin C and Vitamin E will smooth out your skin and will add a glow to your skin.

Collagen:
Did you know that an astonishing 70% of our skin is composed of Collagen? This incredible protein is the secret behind our skin's firmness, hydration, and its ability to stay beautifully wrinkle-free. Collagen is a powerful ingredient to improve skin condition, reduce inflammation, and increase metabolism. Other benefits of Collagen include weight loss, increasing mobility and tackling wrinkling and dry skin. Vitamin C when paired with collagen will nourish the body making your skin glow on the outside.
Hyaluronic acid
Hyaluronic acid works synergistically with collagen to deeply hydrate and plump the skin, enhancing its moisture retention abilities. Experience a noticeable improvement in skin texture and suppleness, as this remarkable ingredient aids in achieving a dewy and radiant glow.
Vitamin C
The addition of vitamin C brings a multitude of benefits to your skin. Known for its antioxidant properties, vitamin C helps protect against environmental stressors, including damaging free radicals. It also aids in brightening the complexion and promoting a more even skin tone, leaving you with a luminous and revitalized appearance.
Vitamin E
Completing our powerful formula is vitamin E, a potent antioxidant that helps nourish and protect the skin from oxidative damage. Vitamin E supports overall skin health, providing essential nutrients and aiding in maintaining a youthful and vibrant look.
At Yes 2 Revive, we are committed to delivering premium quality products. Skin Rejuvenate is crafted with the utmost care, using only the finest ingredients to ensure optimal effectiveness and safety. Our formula is backed by scientific research and manufactured in state-of-the-art facilities, giving you peace of mind and confidence in the product you're choosing.
Take control of your skin's health and radiance with Yes 2 Revive's Skin Rejuvenate. Unlock the secret to a youthful and glowing complexion. Try it today and embark on a journey to rejuvenated and revitalized skin that you'll love to show off.
Share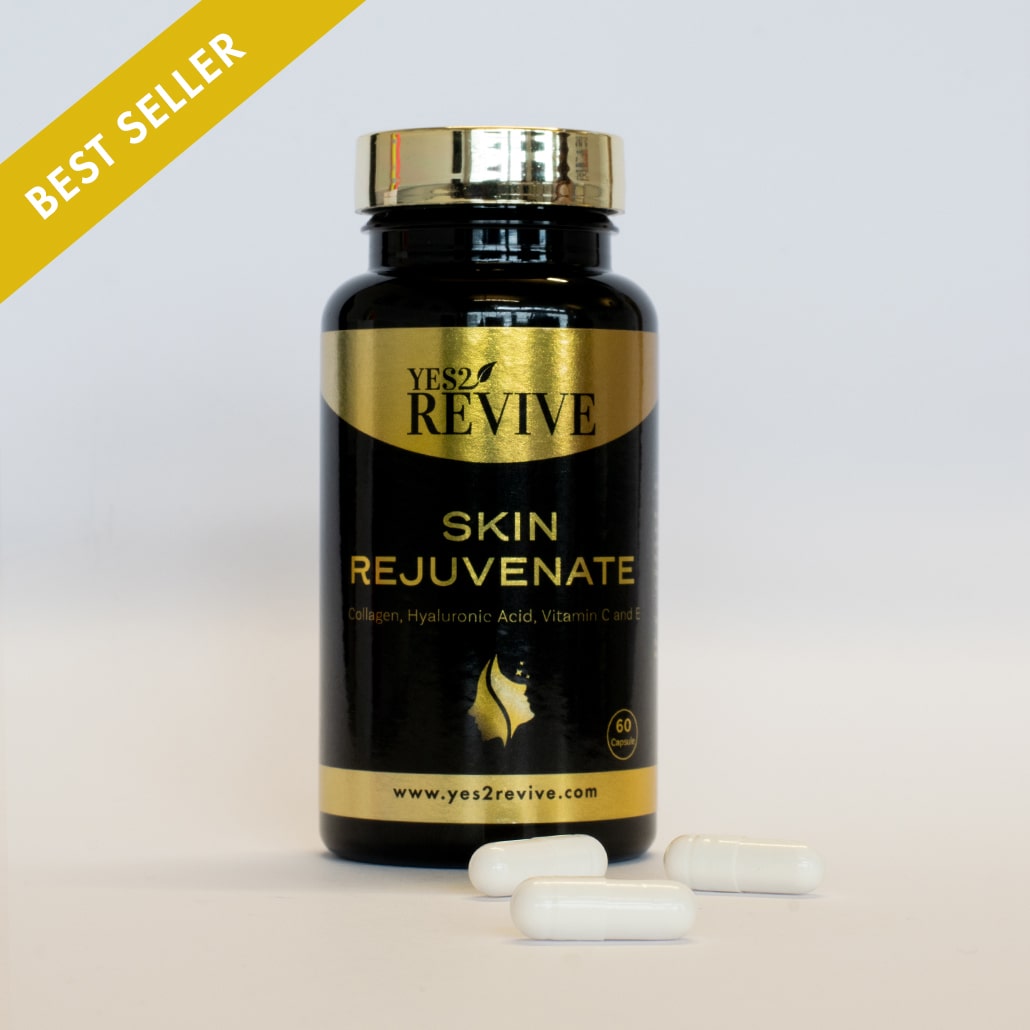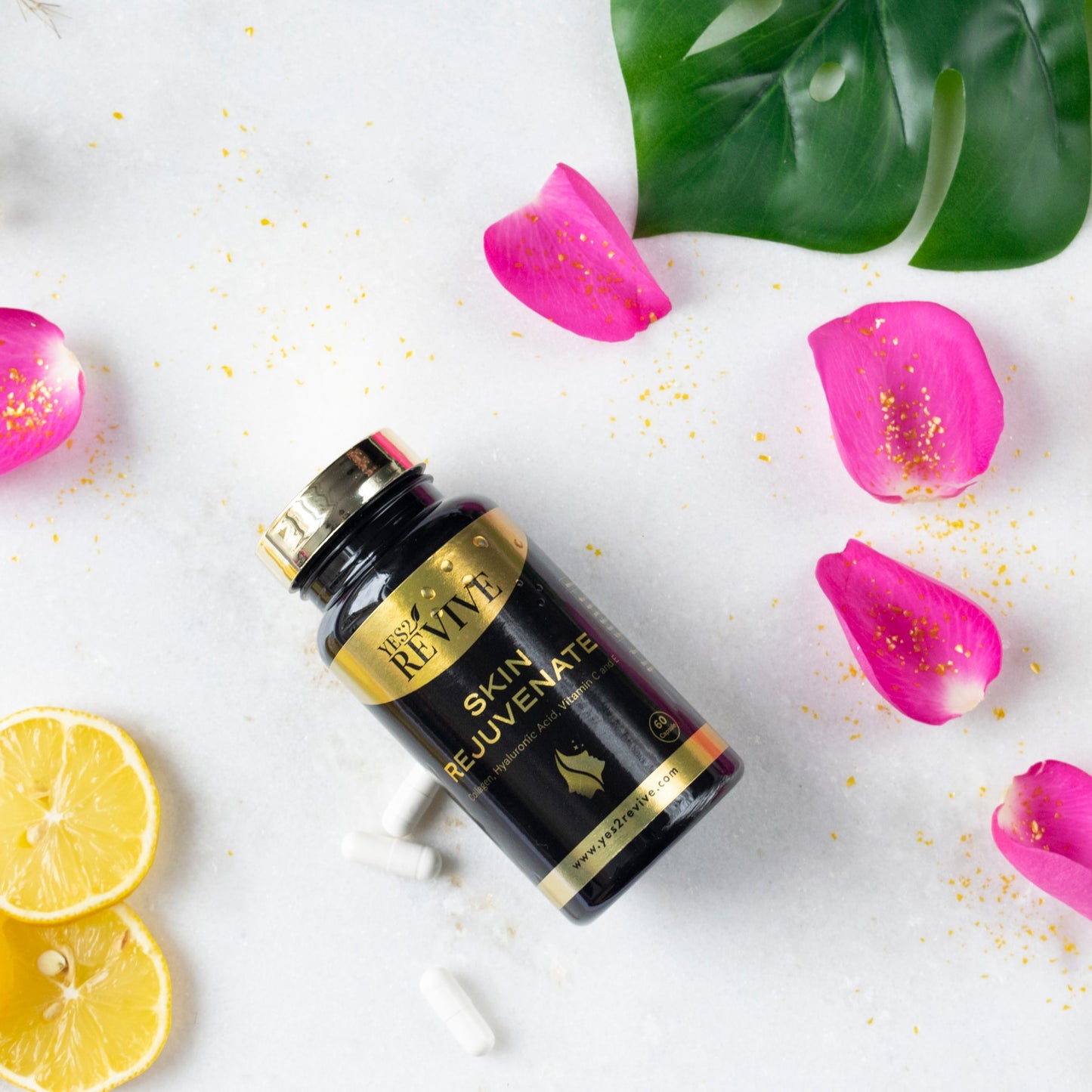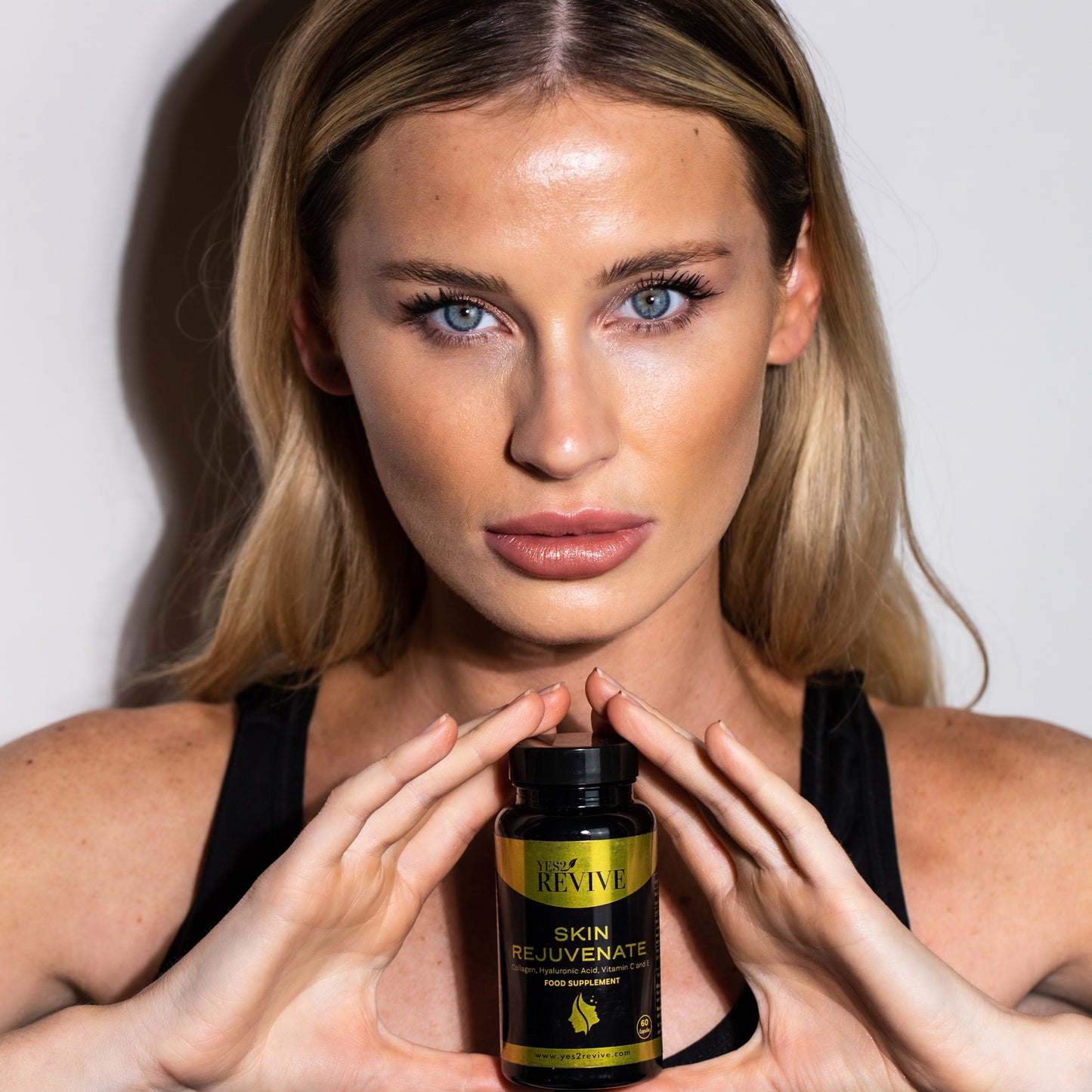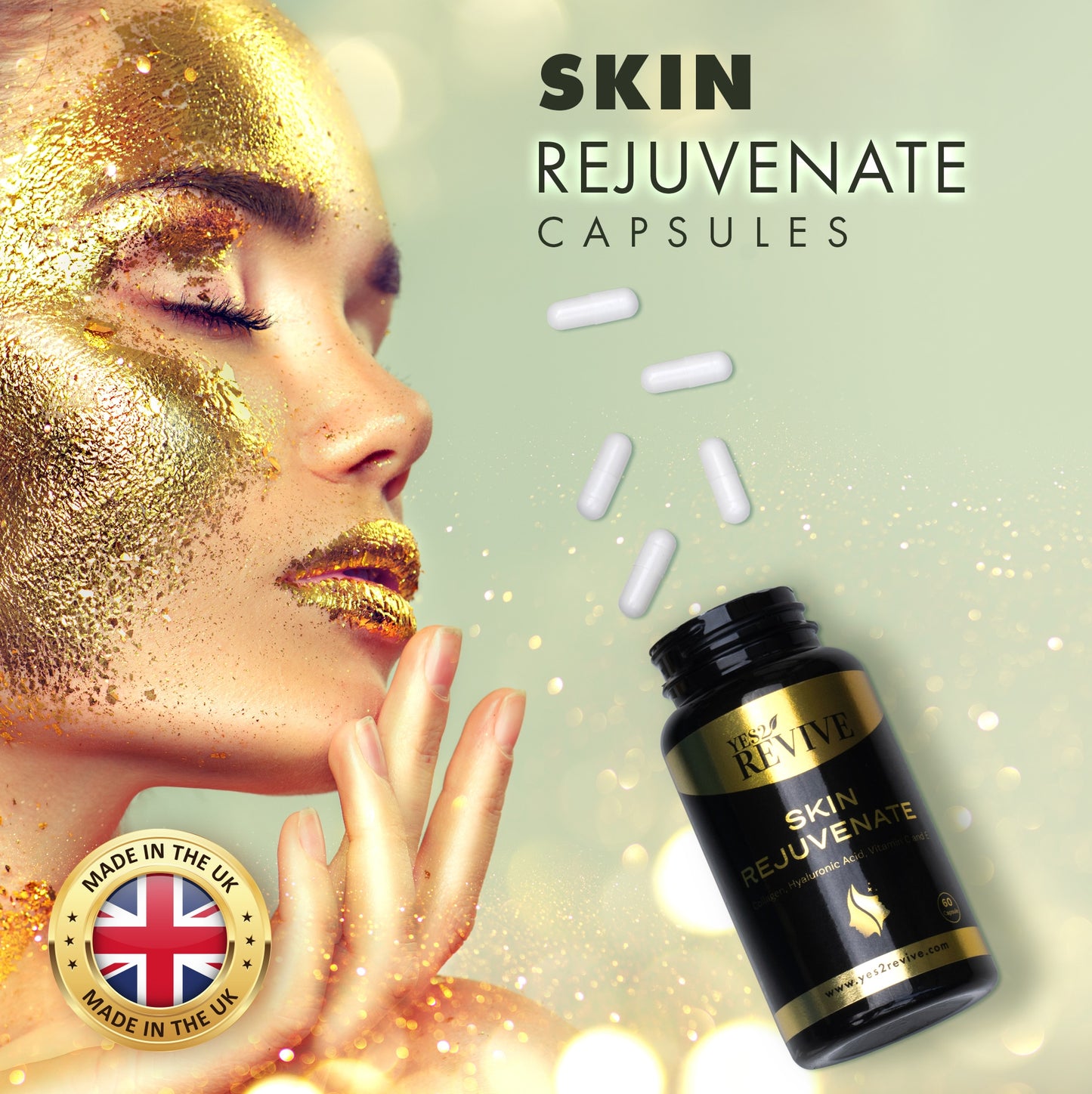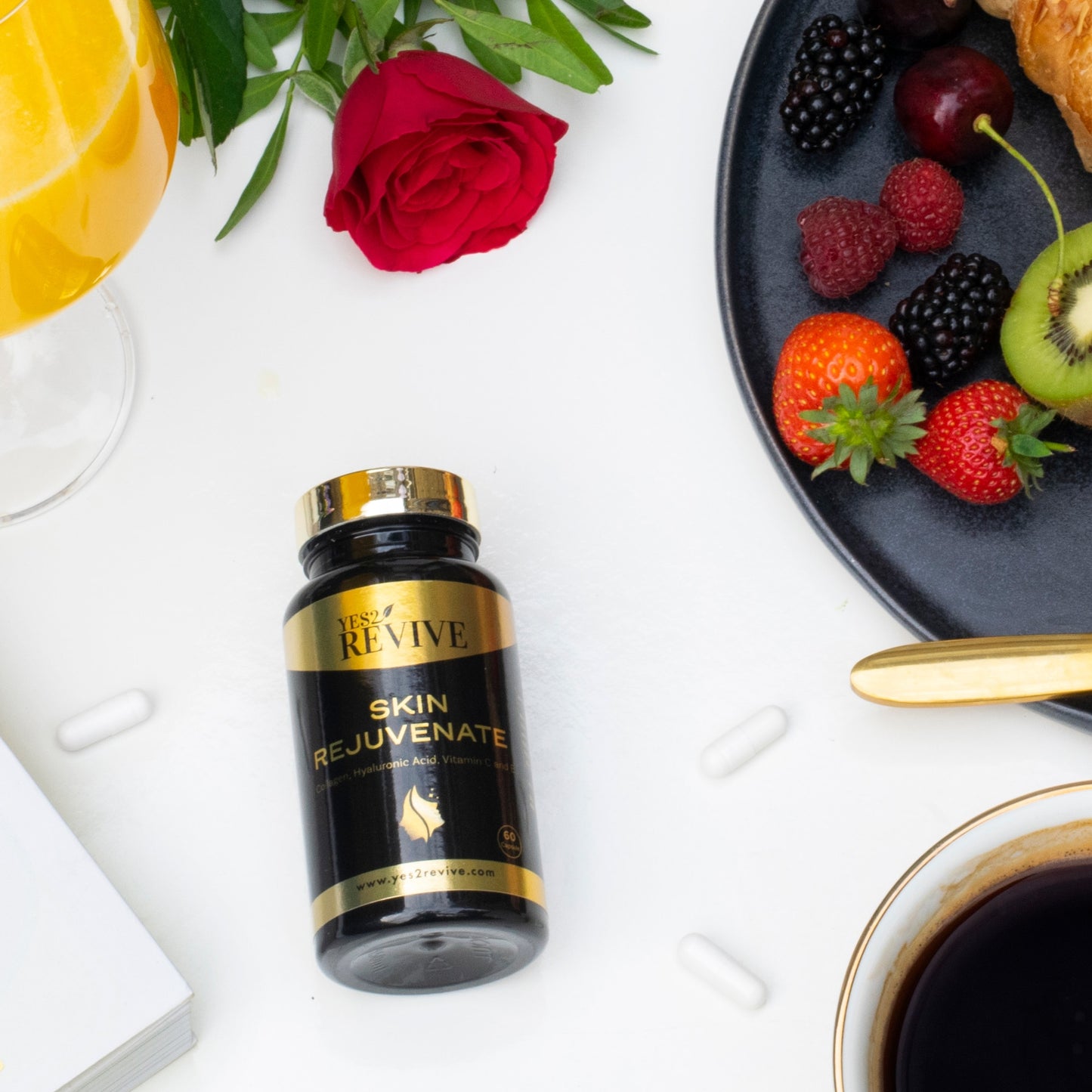 Collagen Facts
Collagen, comprising 75-80% of our skin, plays a vital role in maintaining firmness, hydration, and structural support.
As we age, collagen levels decline by approximately 1% per year, resulting in visible signs of aging such as wrinkles, sagging skin, and decreased elasticity. By age 50, we may have lost up to 50% of our collagen.
Taking collagen orally through supplements can help replenish declining collagen levels, support natural collagen production, and promote skin elasticity, reducing wrinkles and contributing to a more youthful and radiant complexion.
Additional Information
| | | |
| --- | --- | --- |
| Active Ingredients | Per Serving | % RI* |
| Marine Collagen Hydrolysed | 700mg | - |
| Ascorbic Acid 97% DC Grade 41.3mg | | |
| providing Vitamin C | 80mg | 100% |
| Hyaluronic Acid | 60mg | - |
| Vitamin E Powder (DL-Alpha-Tocopheryl Acetate) | | |
| 16.5mg providing Vitamin E | 11mg | 90% |
*Reference intake of an average adult (8400 kJ/2000 kcal)
Other Ingredients: Micro Crystalline Cellulose (Bulking Agent), Magnesium Stearate (Anti-Caking Agent), Size 0.
Allergy Advice: For allergens see ingredients in bold,
Serving Size: Take one to two tablets daily with water, do not exceed the stated dose.
Advice: Food supplements must not be used as a substitute for a varied and balanced diet and a healthy lifestyle. If you are pregnant, nursing or taking and medication or are under medical supervision, please consult your doctor or a medical professional before use. Discontinue use and contact a doctor immediately if any adverse reactions occur. Store in a cool dry place. Keep out of reach of children. Do not use if the safety seal is broken.
Free Shipping

Free Shipping in the UK, Pakistan and UAE. For other countries, please click here to view shipping details.

Read More